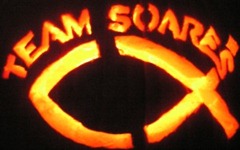 Team Soares is an account of the events, insights, people, and personal highlights that make up Robin & Troy's racing and personal experiences throughout the year. It is a way we can be closer to those around us. Feel free to contact Team Soares to ask us more about why we do what we do.

Triathlons and endurance events are like adventures where a lot of understanding about yourself, others, and God's creation is gained. It's where you can see people at their best. It bursts with personal victories and is filled with challenges that test our character.
For us it is, most importantly, a reminder of the role God plays in our life. He has guided us through struggles and He has blessed us with goodness. Team Soares is reminded to live by our words, race by our faith, and glorify God in victory OR defeat.
We hope to motivate others to conquer their own fears by either training towards a triathlon goal or, even more challenging, standing up for their beliefs when pressured to succumb. Most of all, we encourage others to PERSEVERE. Philippians 3:14 says for us to
"Press on towards the prize of the upward calling of God in Christ Jesus"
Sometimes finishing a challenge we know gratification should come from how we play the game. The ups and downs of the race course are where our strong points shine and our weaknesses haunt us. Like in life, we are not focused on ending it but on cresting each trialing hill as fast and honorably as we can. The higher the hill, the more glorious the summit. By climbing with Jesus at our side, the hill is never too high. The satisfaction gets better throughout the race.
Team Soares is an invitation to everyone to team up with each other and put God at the center. Shine on. Press on. Know that the "climbs" are not futile but, rather, meaningful and rewarding.